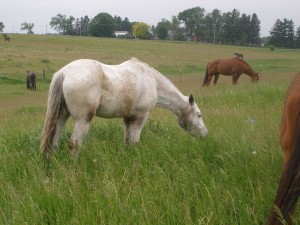 Pine View Stables, in DeForest, Wisconsin, has been home to happy horses since 1997. Owners Bob and Julie Wipperfurth live on-site at this working boarding stables and farm, and provide all the care to the horses at Pine View Stables. Located just north of Madison, Wisconsin, Pine View Stables is convenient for horse owners in northern and eastern Dane County Wisconsin.
Two barns have generous-sized stalls for 12 horses, and the sheltered rough board can house up to 18 additional horses.
Stalls are cleaned daily and horses are turned out daily to a dry lot with hay in the winter and one of three pastures in the spring, summer and fall.
Stalls have summer automatic waterers and buckets in the winter.
One stall and one individual run are available for horses who are injured, ill or need some alone time.
Stall board is $450/month. We will feed your grain/supplements in prepackaged containers.
Sheltered rough board is $265/month. Owners may provide own grain and supplements and feed at your leisure.
Board includes access to all the riding areas and trailer parking.
Effective February 23, 2023 please contact us to be put on our wait list for stall board, and currently have limited openings for rough board, please E-mail Bob Wipperfurth at [email protected] or call 608-846-2703 or text at 608-692-8119 to make an appointment to visit – Our address is 7580 Martha Lane, DeForest, WI 53532.