Pine View Stables has horses at all stages of life with different "jobs" and different health needs. Our 12 acres of pasture are high-tensile electric fenced and available to the horses from spring, summer and fall early morning to early evening for exercise and of course, grazing – their favorite activity!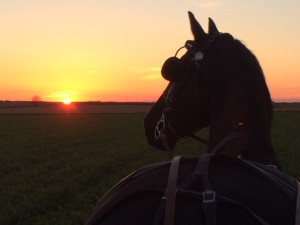 We start the horses slowly on pasture each spring to prevent founder or colic. They start out the season with plenty of hay grown on the farm in the dry lot and an hour on pasture, building up over summer to a full day.
Stalled horses are fed hay in their stalls, and the sheltered rough board horses are fed hay in the dry lots next to the barns.
In the winter, horses are fed twice a day in the outdoor lots, and the stalled horses have evening feeding in their stalls.